Love is friendship set on fire.
Jessica said those words to Ricky during their reception, and it has
stuck
resonated with me ever since. It's so simple and so true. Love is so rad. Their wedding was epic, hence the two-part blog post. It's just too much to sit down and edit them all in one go (that, and I have, like, 50 photos to share, and that seemed a little excessive, even for me).
I shot Jessica and Ricky's engagement photos when she visited her hometown, good ol' PR, last summer (see their session
here
). I knew they were getting married in the city and we discussed her difficulties in finding a photographer that fit over cheesecake after their session one late summer evening. Never in my wildest dreams did I imagine that she'd email me a couple weeks later, asking me to travel to the city to capture their wedding. I was thrilled.
Jessica got ready at the lovely River Rock Casino Resort, and the gorgeous suite was completely filled with natural light (yay!) despite the rainy day (not yay). The morning was lovely and calm as the bride and her maids enjoyed mimosas and croissants. Some of the details...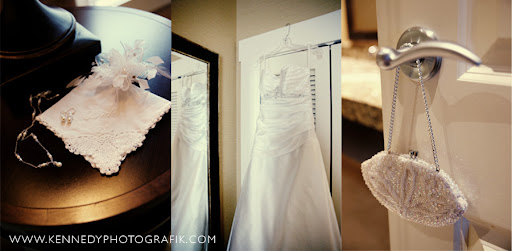 I love the red roses. Simple, classic, elegant.
Jessica had the fabulous Jayna do all the hair and makeup for the girls (and she even came back to do Jess' hair for the reception). They were all STUNNING! Go and visit Jayna's
site
here. You won't regret it.
And... the beautiful bride! Isn't she radiant? Jayna's hair and makeup work is amazing.
I love that Jessica had both her parents walk her down the aisle.
The first kiss as a married couple!
After the wedding and family portraits (in the church... it was pouring!), the bridal party and I ventured to Terra Nova Park in Richmond. It was the perfect location for portraits, even in the rain.
The bridal party was sooo much fun!
The best thing about rain? Rain clouds. The light was delicious.
Hellllllo moody skies!
I haven't had an umbrella shot in ages! Welcome to May weather, y'all. It can be so unpredictable. After Terra Nova, we ventured to the railway for a couple more portraits...
Stay tuned for the second post! I promise, I'll edit soon!